Finding a good guitar stand can be a complicated task due to the great variety of stands that exist. That's why in this post I want to present a comparative guide for you to choose the right guitar stand for you.
Why is a guitar stand necessary?
If you don't have a guitar stand two things can happen that we don't want as guitarists.
Leave the guitar in a case so you feel less like playing just because you have to take it out.
Have it outside but leaning against the wall at the risk of falling.
Which guitar stand to buy?
If you want to choose a guitar stand there are several types here:
Wall-mounted guitar stand
This guitar stand is designed to be screwed to the wall. If you have a small room or don't want to have all your guitars on the floor this is your best option.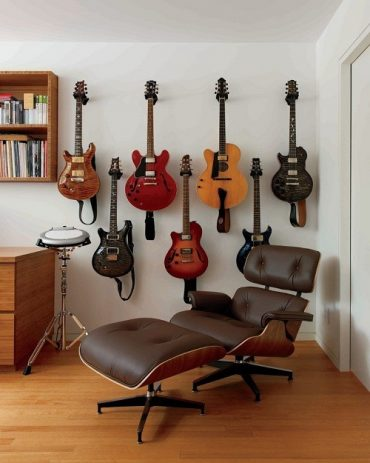 The installation of this guitar stand is simple, you only need a screwdriver to have your guitars hanging on the wall.
Advantages: It fits any type of guitar and will help you save space, especially if you have more than one. In addition, you only have to wipe it with a cloth if you want to clean it.
Disadvantages: Like anything that hangs, over time, this guitar stand can give way if you don't screw it down tight. On the other hand, having to lift your guitar to hang it can also pose a risk in the process.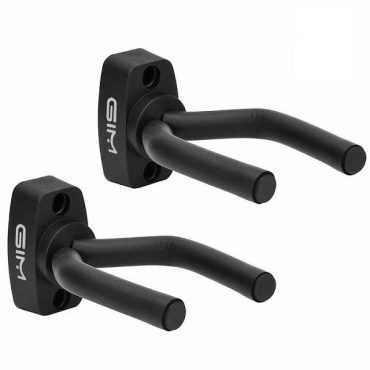 One last important thing is that if you're going to buy a guitar stand like this, don't install it on top of your bed, especially if your guitar is electric. You don't want to wake up with a bump on your knee or worse, your head.
Folding guitar stand
This is the type of stand I use. I currently have three for the guitars I use the most: Spanish, electric and acoustic. The advantages of this folding guitar stand are several.
First of all, you can always have the guitar next to you, for example next to your desk, which will allow you to play it more.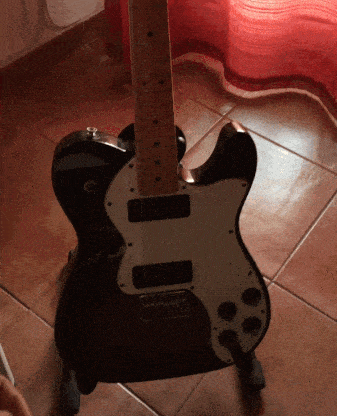 Secondly, your guitar is close to the ground, which decreases the risk that if it falls, the shock will be greater.
Advantages: It is comfortable, especially if you usually play a lot and if you don't usually play it will make you play more. It's psychological: Seeing the instrument next to you will make you want to play more.
Disadvantages: You have to lift everything up when cleaning. It also takes up space, especially if you have several guitars. I do not recommend it for small spaces.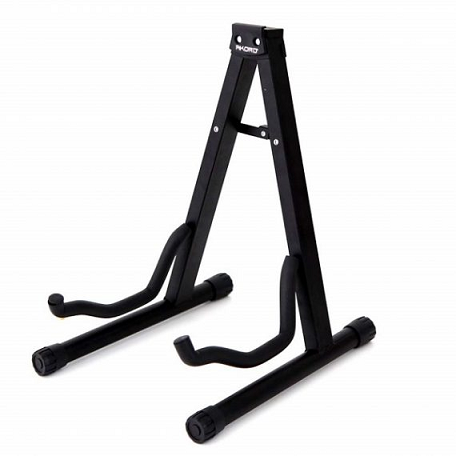 Tripod guitar stand
The tripod guitar stand is like the previous one, and at first glance it seems to protect the guitar from any fall. It is a support that aesthetically I like but with the passage of time ends up spoiling like the microphone stands.
The three folding legs that support it can come loose and this for me personally is a problem. Especially (again) if we are talking about lifting to clean.
For example, if you are holding the vacuum cleaner with one hand and with the other hand you lift the stand with the guitar and the legs are loose, they will not stay open. That is, they will stay as follows: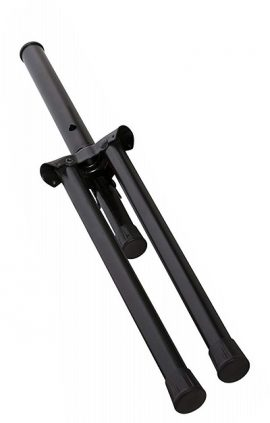 When you put it on the floor again, it will stay the same, but the fact that it closes by itself when you lift it, or that some of the legs bend for me personally is a nuisance.
Disadvantages: There are three pieces. The tripod itself, the stand with rubber cover that is embedded in one of the holes and the main skeleton. All three legs end up loosening over time.
Advantages: It is the ideal support if you are going to move. It takes up little space and can be disassembled. It is also aesthetically elegant.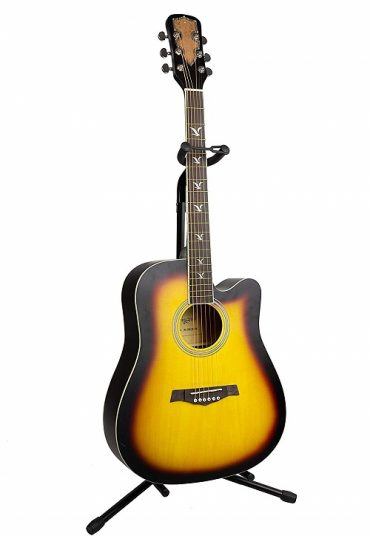 Support for multiple guitars
There are several types. It all depends on your needs and the guitars you have.
First we have the double stand, valid for two guitars of any type. You can put it in the corner of your room and you have a great guitar stand. This stand is a hybrid between a folding stand and a tripod stand.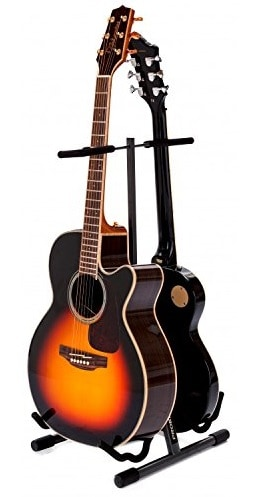 Secondly we have the triple stand. If you have three guitars it is the most appropriate for you. It has perhaps the same drawbacks as the tripod stand. It also has a lot of parts.
It should also be said that if you put it in a corner of a room and want to play the guitar behind it, you will have to juggle so as not to hit the other guitars.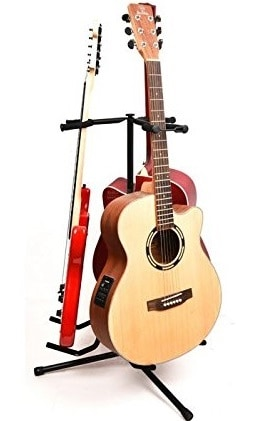 Finally, if you have a lot of guitars you can also opt for a stand for five guitars. The advantages of this is that you will have all your guitars together and available to play whenever you want. The disadvantage is the large space it takes up and the fact that you have to assemble it.
However, if you are going to buy this stand, it is already a given that you are very passionate about music, you already have many guitars stacked in their respective cases and you want to have them all together and tidy.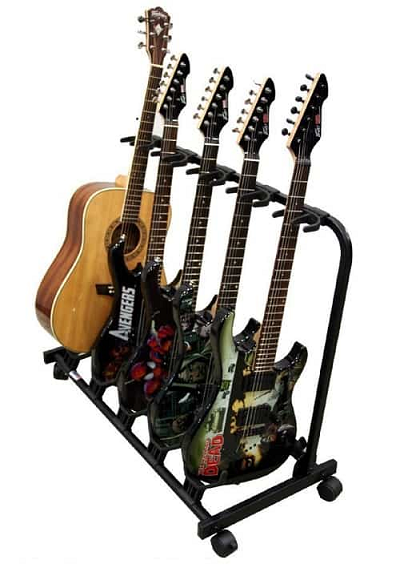 Would this be a good gift for a guitarist?
It is! If the person to whom you want to give a guitar stand has too many guitars, you should give them one to put some order in their life.
If on the other hand that person has stopped playing the guitar and you want them to play it again, this is also a good way to get them back to it, so they will take the guitar out of the closet.