An online sheet music editor is a useful tool for sharing lessons or preparing a score for a student. So, in this post I want to tell you about four editors and we will compare them. We will talk about their advantages and disadvantages so that you can make the right decision when choosing which one to work with.
First of all, I have to say that I use Finale for Windows to create my scores. Then I export them in XML format and upload them to the online score editor. I have tried others like Sibelius, Musescore or Tuxguitar but I can't get out of the habit of using Finale. It is a program that I find comfortable to use.
That said, let's get started…
Musescore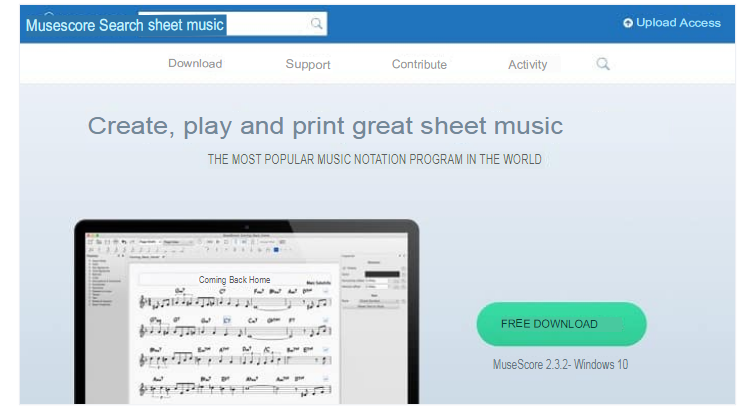 Musescore is a well known free music notation program. Personally I don't use it as an online score editor but I am more interested in it as a music social network.
In the "Community" tab you can access a large catalog of scores created by users and shared completely free of charge. You can choose by category, by instrument and by theme. For me without a doubt the most interesting part of this application.
I don't like: The first thing is that to be able to edit scores you have to download the program and if you use another one you can't upload your music in XML format (the universal format for all editors). You have to open it in Musescore and then convert it to the required extension for uploading. Also you have a limit of 4 free sheet music.
On the other hand, you can synchronize a video with the score but in order to listen to the audio of the video you have to find a button in the menu. That is, it does not play automatically. This is a problem because other users viewing your score will not even know that there is real audio.
Another aspect that could be improved is the ability to loop a measure that you are practicing. The way to do it is convoluted and sometimes it doesn't work.
I like: I think it's great the option to download the score or to print it directly. On the other hand it has a very large community that uploads scores constantly. The best thing without a doubt.
All in all, I like the social part of Musescore that other online sheet music editors don't have. Although this one itself is not edited online.
Flat.io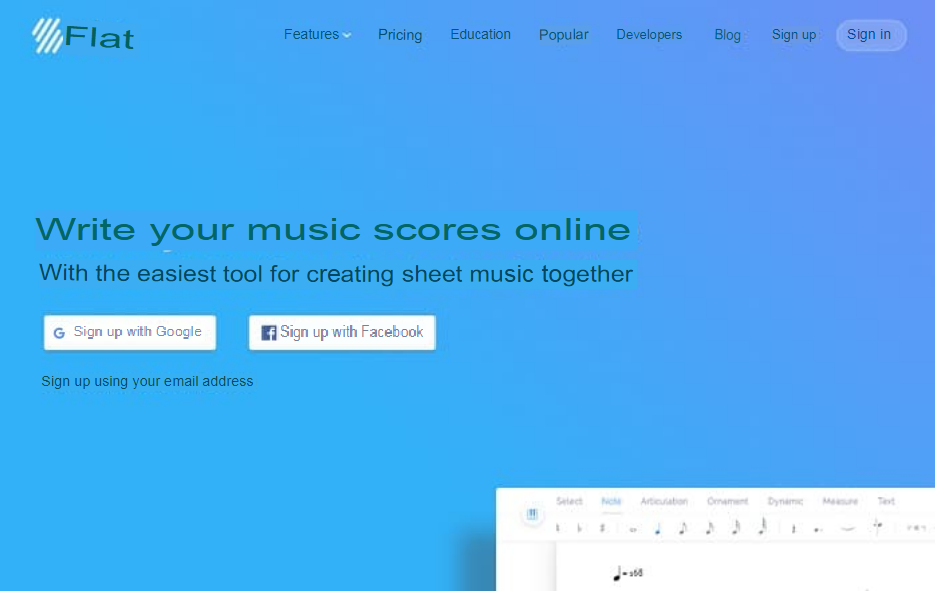 I haven't used this application much but at first glance it reminds a lot of Musescore. In the "Discover" tab you can see what scores users have uploaded.
It has a free version to test the program and a limit of up to 15 scores. If you prefer the paid version you can choose between three. The most striking is the one-time payment of 149€.
I don't like: The interface is a bit slow, especially if you load a score with several instruments. Also it doesn't have a loop option to repeat a measure you want to practice. It also doesn't have the option to add real recordings, which is a shame.
I like: The users are very active and comment on the published scores. Also the price seems fair to me.
Noteflight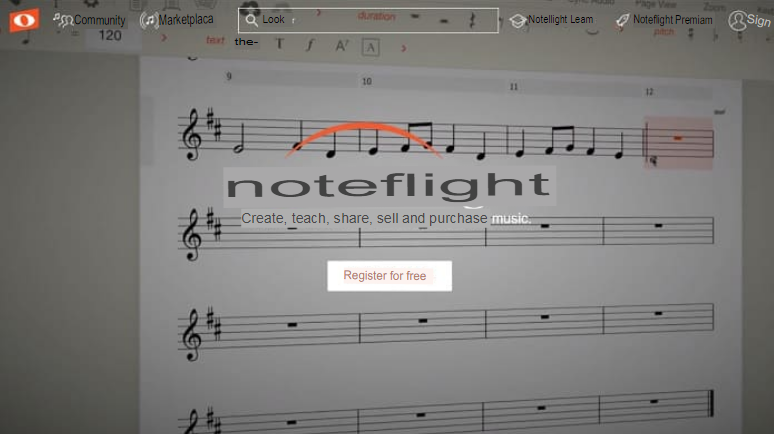 These two that I am going to comment below are my favorites. I have been using Noteflight for quite some time, in fact I have a pentatonic Rock course that uses this program.
At first I used it as a score editor program but when I saw that it had a limitation of scores (10 if I remember correctly) I considered the monthly Premium option. Later I switched to the $49 annual Premium plan, a quite reasonable price if you are a musician.
Noteflight is growing every day. Their community is very large and recently they have added the option to sell your scores or musical arrangements. This is great news for musicians who want to earn some extra income.
I like: Being able to synchronize a video with the score you have created. Also being able to embed the player on your website at no additional cost.
On the other hand, it is easy to use as a student since you only have to press play and select the bar you want to practice. You can also click on the bar you want and it will play it instantly.
I don't like: If you want to slow down a score for practice you will have to listen to it in MIDI as it won't change the speed of the actual audio. I also don't like that the editor is so complex, especially if other programs have the same options and with simpler shortcuts. In other words you have to get used to using it. 🤦
Finally, despite being social, you can't have a custom link. Something like noteflight.com/guitarrasinlimites would be nice but instead you have to settle for a very long URL.
Noteflight has many things to improve but its price is right and its interface is correct.
Soundslice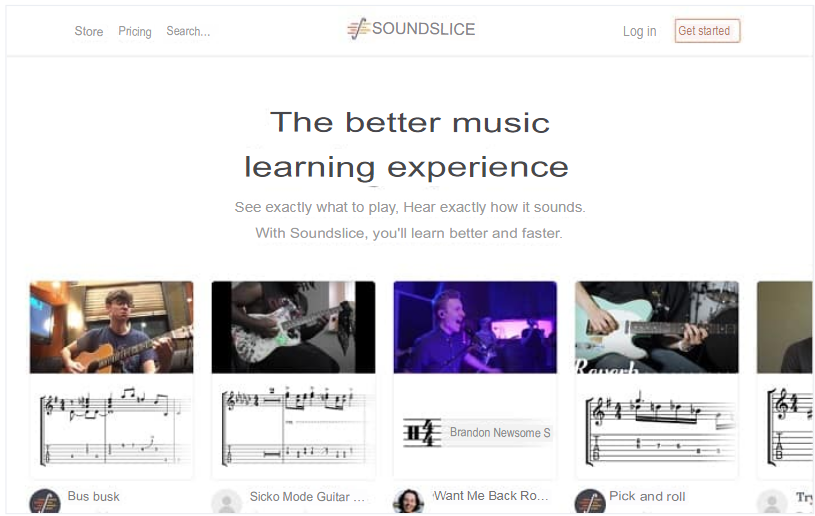 Of the online sheet music editors this one takes the prize for me. It's fast, easy to use, has a growing community and best of all is the experience for the learner.
You can also very easily sync any audio to the XML file or to the score if you create it from the Soundslice score editor. In addition to this, you can sync the audio from a video to the score and slow down the score and video at the same time.
Other interesting features include the option to loop a single section within a bar or a staff. Also the metronome and even transpose the key of the piece you are learning.
From my point of view with Soundslice you can learn songs really fast if you take it seriously. Its creator is Adrian Holovaty, a web developer and guitarist who has managed to create a powerful and easy to use tool.
If we talk about prices, Soundslice has several alternatives. You have the option of being able to upload scores unlimited and completely free and then there are other plans ranging from $5 per month to the full license that includes embedding the program on your website.
Finally, it should be noted that if you are a professional musician you can also sell your lessons on the same platform.
I like: It's fast, stable, easy to use, great for learning new songs, it syncs with the audios perfectly, it doesn't hang and you can practice comfortably with the guitar
I don't like: Its price is high if you are professionally dedicated to music. If you want to embed it on your website, the license costs $100 per month. In addition for each unique visitor they charge you $0.50. That is to say, if you have an online course and that month 200 people access it, everything will cost you a modest $200.
In short, these are the 4 online sheet music editors that I use and perhaps the most used. Do you know any other online sheet music editor? Comment it below.