In this lesson I will teach you some good chord progressions for beginners with basic chords.  We will not deal with the rhythms themselves but with the chord sequences that can be played with our instrument.
Chord progressions
Knowing this, let's play some common chord progressions that you can play with basic chords and in the most commonly used keys on the guitar.
As you will see in the video, the degrees (marked with Roman numerals) are a universal way of treating each chord within a key. That's why you will see that sometimes the same progression appears with different chords (see below for a theoretical explanation of this).
On the other hand, the keys that appear in this lesson, such as DO, SOL, RE or LAm, I have chosen them on purpose because they are the most used in the guitar.
Chord progressions for beginners
These are the progressions you have in the video. You can practice them, when you can change from one chord to another fluently.
Progression with: I – V
Progression with: I-V-IV-V
RE LA LA SOL LA
LA MI RE MI
SOL RE DO DO RE
Progression with: I-V-vi-vii-iii-IV
Progression with: I-V-IV-ii- G D D C Lam
Progression with: I – V – vi – IV
SOL RE MIm DO
DO SOL LAm FA
Progression with: I-V-vi-IV
Progression with: I IV vi V
Progression with: I – IV – V
Progression: I – IV – I – V
SOL DO SOL SOL RE
LA RE LA LA MI
Progression with: iv-i-V-i
Progression with: I-vi-ii-V
Progression with: I-vi-IV-V
SOL MIm DO RE
Do Lam FA Sol
Progression with: vi – IV – I – V
MIm DO SOL RE
LAm FA DO DO SOL
Progression with: i – VII – VI – VII (iv)
LAm SOL FA SOL SOL
LAm SOL SOL FA Rem
A theoretical explanation
To understand chord progressions we must know the following:
A major scale has seven notes (e.g. C, D, E, F, G, A, B), each of these scales forms a chord by placing notes on top of it.
Each of these chords is classified as major, minor or diminished:

Each of these chords, besides being major, minor or diminished, is assigned a Roman numeral called degree:
For example DO (I), RE (II), MI (III), FA (IV), SOL (V), LA (VI), SI (VII).
Each of the degrees is assigned a tonal function:
tonic (I), supertonic (II), through (iii), subdominant (IV), dominant (V), superdominant (vi), sensitive (viiº)
For example, we can create different degrees from different notes in other scales: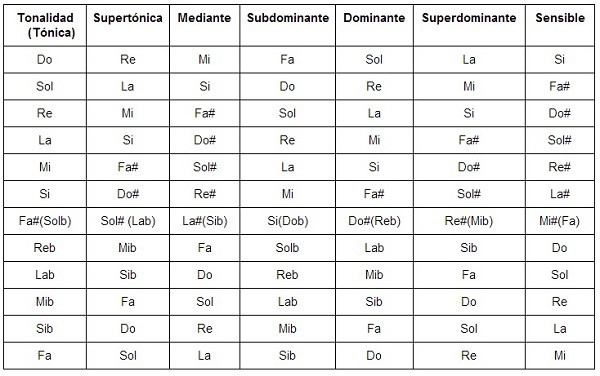 Practicing these chord progressions in other keys
However, if you want to investigate further, when you can make the correct changes between these chords, you can try the following:
Choose a chord to start with. Let's say we want to start with the E chord as the tonic (I) chord.
Choose one of the progressions shown in the video. Let's say we choose The I-V-IV-ii progression.
Knowing that we have chosen the E as the I chord, we go to the table and look for the others. In this case they would be:
I=MI
V=SI
IV=LA
ii= FA#m
In short, is there a song that sounds like one of these progressions? Comment it below.