They say that a riff should be like a good handshake: firm and memorable, and every band worth its salt needs at least one to make the audience fall in love. So, in this list, I'm going to present you the 25 best guitar riffs in the history of rock so you can play them on your guitar. It must be said, of course, that this list of the best guitar riffs in history is as subjective as it is endless. Let's see what they are.
List of the best guitar riffs in history:
Back in Black – AC/DC
AC/DC's Back in Black, from 1980, is one of those songs that has been played many, many times. It has a strong and memorable intro, followed by a fairly simple but very effective guitar solo. It's great for getting the crowd going. What makes this song great is the contrast between the first and last verse, with quiet verses giving way to strong choruses.
Johnny B Goode – Chuck Berry
Johnny B Goode is Chuck Berry's classic rock song and is a great example of a guitar riff. It is one of the most famous in rock and roll history, but it wasn't exactly easy to play. When the song was released in 1958, Chuck Berry had to give instructions on how to play the song's intro because many musicians couldn't understand it.
On the other hand, the song is also one of the most famous examples of rock and roll, as it uses a guitar solo in the middle to break up the different verses. This is a staple of classic rock radio songs.
Deep Purple – 'Smoke On The Water' – 'Smoke On The Water
The intro riff to Deep Purple's Smoke on the water is one of the most recognizable riffs in all of rock music. In fact, it was so popular that they made a joke out of it and created an entire album called "Made in Japan". The riff is played by Ritchie Blackmore on his Stratocaster electric guitar and a Marshall Plexi tube amplifier. He originally played it at a slower tempo, but sped it up to give it more energy.
 Voodoo Child (Slight Return) – Jimi Hendrix
This track is the second track from his 1968 masterpiece, Electric Ladyland. Hendrix and his band, The Experience, were in top form when they recorded the song in one take at New York's Record Plant studio. Taking advantage of the pentatonic scale, Hendrix creates a bluesy solo that has become an iconic piece of rock and roll history.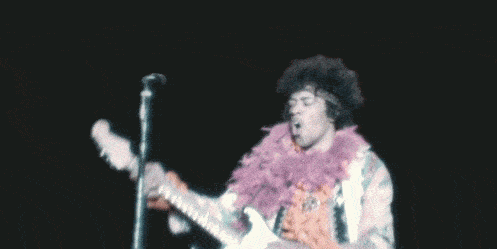 (I Can't Get No) Satisfaction – The Rolling Stones
Satisfaction by the Rolling Stones is another of those mythical riffs in rock history. It is also one of the simplest, consisting of only four chords and a drum beat. This is a guitar riff that became famous when Keith Richards played it during a concert in Hyde Park in 1969 during which he broke his wrist. Satisfaction was also the Rolling Stones' first U.S. number one.
Sweet Home Alabama – Lynyrd Skynyrd
This riff is so famous that it has been used as a soccer chant and even as a political statement (some say it refers to Alabama's segregationist policies). The song, Sweet Home Alabama, was released in 1974 as a response to Neil Young's 1972 song Southern Man. Young was taking aim at racism in the South, but Lynyrd Skynyrd wanted to defend his home state and saw Young as an outsider who didn't understand what he was talking about.
Paranoid – Black Sabbath
Black Sabbath is one of the most influential metal albums in history, and Paranoid is one of the most recognizable metal anthems. The riff was recorded by Toni Iommi on a Gibson with a Marshall amp. Not only is it the opening riff, but you hear it throughout the entire song. It's a great example of how to make a simple riff sound very powerful.
Money – Pink Floyd
Pink Floyd was an English rock band formed in London. They achieved international fame with their progressive and psychedelic music. Characterized by their philosophical lyrics, sonic experimentation, extensive songwriting and elaborate live shows, they are one of the most commercially successful and musically influential groups in rock music. Here in this list we have added the Money riff which is in 7/4 time signature, it is a very simple riff, but extremely memorable.
La Grange – ZZ Top
When you think of ZZ Top, beards, big hair and the La Grange riff probably come to mind. This is one of those rare songs that can't be imagined without its famous riff. It comes from the album Tres Hombres and was released in 1973. The song is about a brothel outside the town of La Grange, Texas.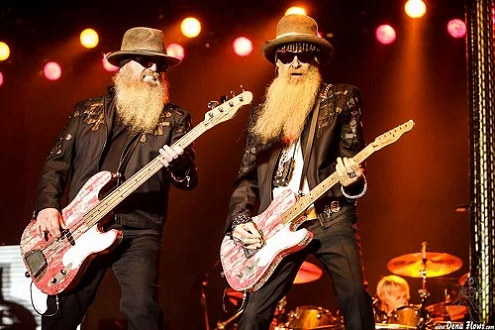 Smells Like Teen Spirit – Nirvana
Smells Like Teen Spirit is one of the most recognizable pieces of music in history that launched Nirvana to worldwide fame and has since been covered by countless artists and has become a cultural phenomenon. At the time of its release in 1991, it was considered the anthem of a generation of disaffected youth, reflecting the social malaise of a generation.
Beat It'- Michael Jackson
We move on to Beat It, a song that helped launch Michael Jackson to stardom in the 80's and early 90's. Beat It's riff is inspired by "Day Tripper" by the Beatles, Michael's favorite band as a kid. On the other hand, the song's solo demonstrates Eddie Van Halen's incredible talent as a guitarist.
Money For Nothing – Dire Straits
We can't leave out of the list the mythical band Dire Straits with the riff of the song Money For Nothing. This song is also notable because it was named as one of the ten best guitar riffs in history by Rolling Stone magazine.
Day tripper – The Beatles
A practically perfect song, with a great riff that is instantly recognizable. Day Tripper was recorded in 1965 during the Rubber Soul recording sessions. The song was a breakthrough for the band and remains one of the best guitar riffs in history. he song's main riff is what helped make it one of his best-known tunes.
Sweet Child O' Mine – Guns N' Roses
On to Guns N' Roses' most recognizable track. Whether you're a rock fan or not, you have to appreciate the brilliance of that opening riff, one of the most famous guitar riffs in rock history. Slash grew up listening to Kiss and Aerosmith, but his biggest influence was Peter Green, guitarist for the British band Fleetwood Mac.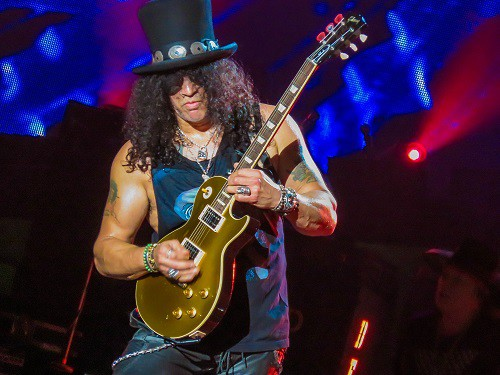 Walk This Way – Aerosmith
When Walk This Way was first released in 1975, it was not an instant sensation. However, after a series of live performances, Aerosmith's popularity began to skyrocket. Walk This Way has become a classic rock standard and is one of the most recognizable guitar riffs in history.
Enter Sandman – Metallica
This is one of the most famous guitar riffs in history and one of the most played in heavy metal. The song itself is notable because it was released on Metallica's self-titled black album and was the first single released from it. The song itself is about a boy who dies in his sleep because of his nightmares. Angels take him to heaven, where he can wander through a beautiful but sad land filled with toys and memories of his life. The riff is a bit gloomy but still a classic.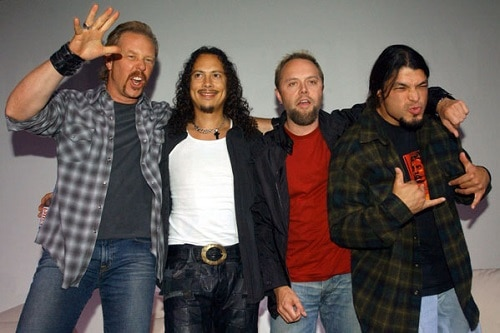 Rebel Rebel – David Bowie
Rebel Rebel is a song by David Bowie, the opening track of his 1974 album "Diamond Dogs". The song itself is a song of rebellion and is as iconic as the guitar riff.
Breaking The Law – Judas Priest
When you're learning to play guitar, there are few better songs to teach you how to riff than Breaking The Law. The song was written by Rob Halford, Glenn Tipton and K.K. Downing. An enduring classic.
Misirlou – Dick Dale
Dick Dale's Misirlou is arguably the first surf song, and also one of the best rock instrumentals ever recorded. The song became so popular that it was used in several commercials and movies over the years, including Pulp Fiction.
Le Freak – Chic
The guitar riff that opens Le Freak by Chic is probably one of the most sampled and popular in the history of pop music. It was written and produced by Nile Rodgers and Bernard Edwards and became a disco hit in the United States, reaching number two on the Billboard Hot 100 singles chart, behind Donna Summer's "Hot Stuff", and in Canada, where it reached number one.
Song 2 – Blur
Song 2 was the second single to be released from Blur's fifth studio album in February 1997. The riff on this track has it all: energy, power and passion. It is one of the group's best-known and most popular songs, with critics noting its catchy hook and more lighthearted tone compared to other Blur songs.
Are you gonna go my way – Lenny Kravitz
Another song with a spectacular riff. The whole song is practically based on this riff. It's also fun to play, especially if you're a beginner.
Marquee Moon' – Television
The song Marquee Moon by Television has an incredible riff. Marquee Moon is a song from New York band Television's 1977 debut album of the same name. With its vibrant guitar, Marquee Moon is an impressive display of Television's youthful energy. The song is a perfect example of the no-nonsense approach that made Television so influential and has influenced countless bands to this day.
Message in a Bottle – The Police
Message in a Bottle was a song released by the British rock group The Police on their second album Reggatta de Blanc (1979). The song's lyrics are based on an experience Sting had in December 1976 when he was walking along the beach near his home in Surrey, England. He found an anonymous love letter that had been thrown into the sea. The riff of course has some rather novel hand stretches and intervals for a rock band.
Are You Gonna Be My Girl – Jet
This song is one of the most famous rock classics of recent times. It was released as the first single from Jet's eponymous debut album and became an instant hit. In fact, it reached number 2 on the US charts and number 1 in many other countries around the world, such as Canada, Italy, Sweden and Finland, in addition to many others. The riff on this song is a classic. It's a great example of a hook riff with a steady pattern of muted claps that works together with the bass to create a solid foundation for this pop-rock tune.
Well, this has been the list of the 24 best guitar riffs ever. If you liked this article and found it useful, be sure to share it. And if you think I've left out any other riffs, leave them in the comments for a second installment.