If you are looking for romantic songs to play on guitar to dedicate them to someone here is a list that I will be expanding. This list of romantic songs that you see here, contains songs from all eras. There are modern and not so modern, from young artists and other more classic ones. Nevertheless, they are beautiful songs that never go out of fashion because of the subject they deal with.
On the other hand, these romantic songs to play on guitar have three links: one with the chords so you can practice them, another with a version of someone like you and me who wanted to share his talent by recording himself and finally you have another link with the original song.
Finally, the romantic songs on this list can be played on any guitar you have. to someone special or for pure delight. I hope you enjoy them.
list of romantic songs to play on guitar: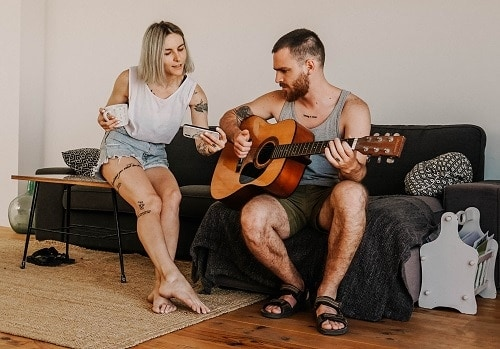 El perdedor – Enrique Iglesias
It was you – Ricardo Arjona
Solamente tú -Pablo Alborán
Who do I want to lie to – Marc Anthony
No me doy por vencido – Luis Fonsi
I dedicated myself to lose you – Alejandro Fernández
Suelta mi mano -Sin Bandera
Por Amarte Así – Cristian Castro
Another takes my place – Miguel Gallardo
Bed and Table – Roberto Carlos
Forgive me – Camilo Sesto
Así Fue – Juan Gabriel
My story between your fingers – Gianluca Grignani
Hanging in your hands
The most beautiful thing chords
Me muero – The Fifth Station
You Promised – Pepe Aguilar
You came when I least expected it – Leo Dan
And how is he – Jose Luis Perales
Eternal Love – Rocío Durcal
Amar y querer – José José José
How to look at you – Sebastián Yartra
You changed my life – Río Roma
Sabes – Reik
La incondicional – Luis Miguel
Later I will be adding more romantic songs to play on guitar. If you want me to add a specific song, leave your comment below.